This May, for pilots in general aviation, the weather was really challenging. Week by week there was mostly only a part of a day, who opened an spot with adequate weather conditions, usable for a longer flight. On May, the 22nd, the forecast for the 23th pointed to nearly perfect weather in the south. Two ESAaviators could make use of it.
Even one hour before the scheduled start, a dark, windy and rainy weather front was passing through the departing airfield in Reinheim. But the forecast was reliable, so that exactly as forecasted, all thunder storms went to the north- east and the weather opened to a very impressing mixture with clouds, blue sky and light games in between.
After all checks, around 16:00 local, the flight could start as scheduled. After leaving the air space nearby the controlled area of airport Frankfurt a. M.,with heading south- south – east, we climbed on top of the clouds to flightlevel 95. In the north of Schwäbisch Hall, the clouds were rising, which made it necessary to sink below the clouds to flightlevel 55. In latitude of airport Stuttgart, as a thin white line on the horizon, the alps started to become visible. After passing the city Ulm, we turned our heading direct to the south, passing the west of airspace of airport Memmingen. During flying close to airfield Leutkirch- Unterzeil (EDNL), we started slightly with sinking to turn again to south- east to land after 1:28 on the airlfied in Kempten-Durach (EDMK).
Kempten-Durach (EDMK), with ~2.340 feet the highest public airfield in Germany, presented itself with beautiful weather, friendly operators and good smell, coming from burgers and ships from the restaurant direct in close to the airfield tower.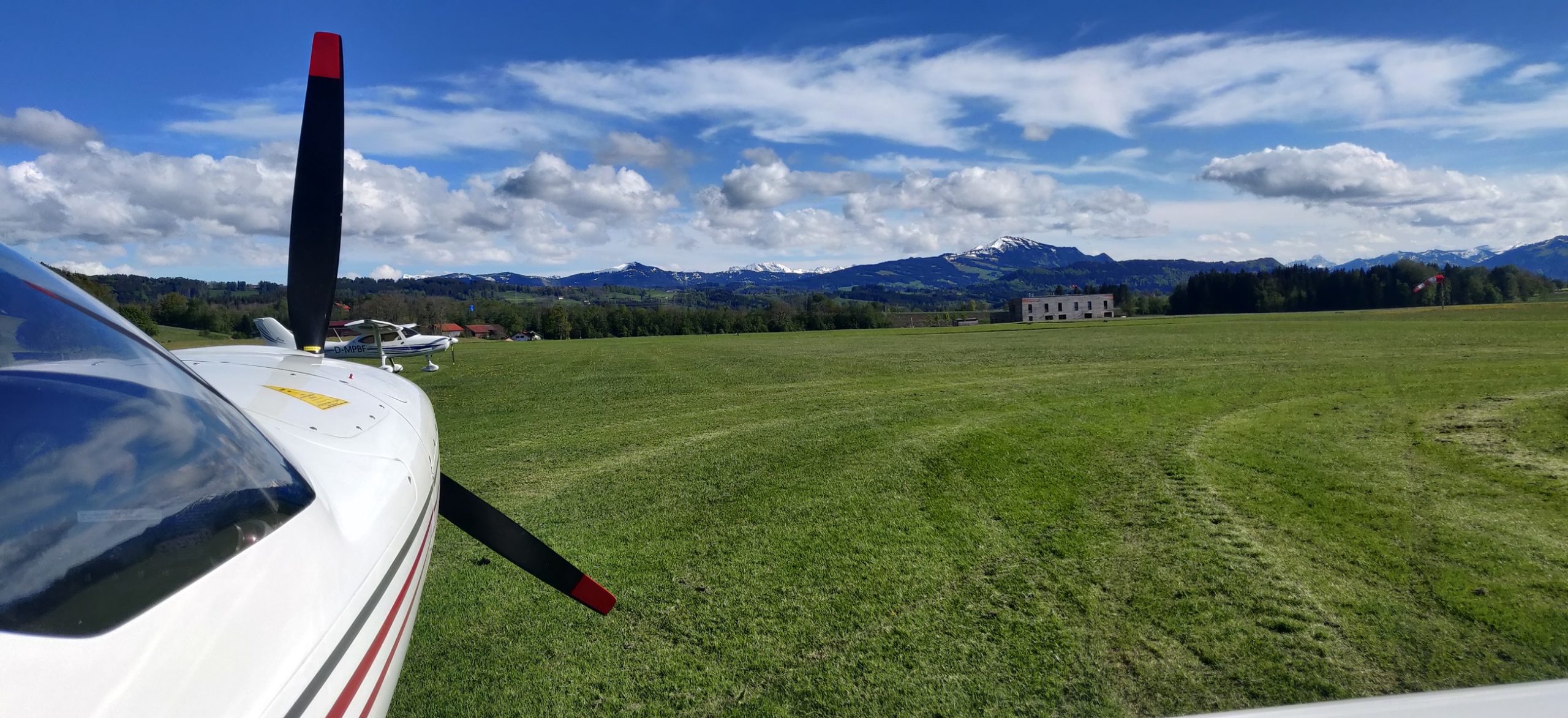 After refreshing and refuelling, a short briefing showed that we had some redundant minutes remaining to continue our flight with a close flyby to the famous castle 'Neuschwahnstein'. This we did, with some safety altitude and distance. As next highlight, with heading to the west, the flight lead along the landscape of the northern alps. With some minutes over Austrian territory, with close fly by of mountain Pfänder and city Bregenz, the journey returned with a impressing lighting scenery to Germany, following the 'Lake of Konstanz' to the west.