5 planes with 12 ESA Aviators visited visited the squadron 71 "Richthofen" of the german Luftwaffe in Wittmund on the north sea coast and were introduced to the operation and maintenace of their Eurofighter Typhoon jet aircraft.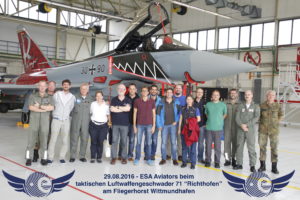 Thanks to the good dialogue between one of our ESA Colleagues, we were allowed to land there with our General Aviation Airplanes. This is not standard at all and hence it has been a great privilege.
High-ranking officers have spend their precious time with us until our departure in the afternoon, explaining us all about the squadron 71 "Richthofen", their base and all the equipment – Eurofighter Typhoon Aircraft.
On Sunday, most of us met up on the island of Borkum to have a nice dinner altogether and to leave early on Monday morning for a 10min short flight between local rain showers to Wittmund Airbase where we had a nice parking next to an old F4 Phantom aircraft. From there, we went around the base by bus and gathered impressive moments of Typhoons doing afterburner take-offs and low flybys and and and.